The Baltic ferry Estonia, en route from Tallinn to Stockholm with some 1,000 passengers and crew on board, sank on September 28, 1994. Shortly after midnight, two concussions rocked the ship. The ferry quickly listed to starboard and sank into the frigid Baltic Sea in less than 45 minutes under circumstances which can only be described as mysterious.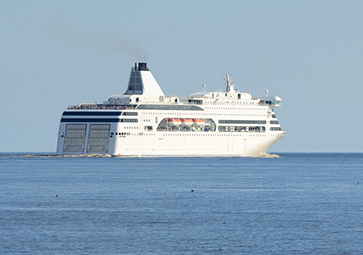 Although more than 500 Swedes were among the 852 reported dead, the Swedish government has blocked every effort to recover the bodies from the wreck. Even an early offer by a Norwegian diving company to retrieve the bodies at cost was rejected. Despite repeated promises from two consecutive Swedish prime ministers that the bodies would be retrieved and the wreck would be salvaged, three months after Estonia sank the Swedish government announced that there would be no recovery operation whatsoever. Instead of retrieving the bodies, the government of Sweden hired a Dutch marine salvage firm, Smit Tak BV, that specializes in neutralizing underwater nuclear waste, spending $350 million in a failed attempt to cover the ship in concrete. The wreck lies in soft mud at a depth of between 60-80 meters.
Military shipments confirmed
Recent revelations in the Swedish mass media that the ferry was being used to smuggle Soviet military technology have confirmed long-held suspicions that the unexplained sinking of Estonia may have been connected to a secret space weapons cargo it was carrying.
Immediately before Estonia left Tallinn on its final voyage, Carl Övberg, a survivor and frequent passenger who had arrived at the last minute, reported that the harbor had been sealed off and that a military convoy had escorted two large trucks to the waiting ferry. As soon as the trucks were loaded, the ship's car ramp and bow visor were closed and the delayed ferry sailed for Stockholm.
Swedish state television (SVT 1) broadcast an investigative journalism program called Uppdrag Granskning on November 30, 2004, in which the former chief of customs in Stockholm confessed that Estonia had indeed been used to transport Soviet military technology to the West in September 1994. According to former customs chief Lennart Henriksson, on two occasions shortly before Estonia sank, vehicles carrying Soviet military technology had been allowed to enter Sweden without any inspection. "I have been walking around thinking about what happened for ten years," Lennart Henriksson, Stockholm's former customs chief said. "Each time Estonia's name came up I've thought the little I know should be brought into the light of day. I want to clear my conscience."
Henriksson had been ordered to allow certain vehicles carrying Soviet military contraband to pass Swedish customs without inspection on September 14 and 20, 1994, but was not working the day Estonia sank because he was on vacation. Henriksson's confession sheds new light on the sinking of Estonia. The ferry was a joint venture between a private Swedish company, Nordström & Thulin, and Estline, a company owned by the Estonian government. Prior to the SVT 1exposé, reports of Soviet military technology being smuggled on the ferry had been dismissed as "conspiracy theories." Henriksson revealed that a secret agreement existed to allow military contraband cargo to enter Sweden without being inspected by customs. This arrangement was between Owe Wictorin, then supreme commander of Sweden's military and Ulf Larsson, then general director of Swedish customs. The arrangement was known at the highest level of the government as well as at the defense department.
Normally, Swedish customs searched every vehicle coming from Estonia. That a vehicle was to pass without inspection was something Henriksson had never seen in 38 years of service.
When the ferry arrived on Sept. 14, 1994, Henriksson spoke to the driver of the expected vehicle, a Volvo 745 station wagon driven by a Frank Larsson, a false identity. When Henriksson told "Larsson" that customs was carrying out inspections, he "gave me a look, but I said the search would be faked," Henriksson said. "We opened a few boxes and as far as I could see it was military electronics in them." The customs slip showed the car belonging to a non-existent company called Ericsson Access AB, a fictitious subsidiary of AB LM Ericsson Finance. No address was given. Henriksson discovered later that the vehicle was a rental car. There is no evidence that Ericsson was actually involved in the smuggling. Although the Swedish military authorized the smuggling, the final destination of the Soviet technology is not known.
A week later, on September 20, 1994, a much larger shipment of contraband technology arrived and was allowed to pass without inspection. This time it was a van and, once again, Henriksson merely glanced into the boxes. "What were you thinking this second time?" reporter Lars Borgnäs asked. "I thought it was a strange procedure," Henriksson said. "But orders are orders and you don't reflect too much on why."
(…)
Disappeared Estonians
The mystery of the sinking of Estonia, however, has affected some more than others. While survivors recovered and the relatives and friends of those lost at sea mourned, a third group was left completely in limbo, where it is to this day. To this third group belong a dozen, or more, Estonian crew members who were originally reported as having been rescued, only to have mysteriously disappeared in the days following the disaster. The disappearance of these 12 Estonia crew members points to a high-level cover-up of an international intrigue.
Recent revelations in the Swedish press of "enforced disappearances" of two Egyptian "terror suspects" carried out in Sweden in 2001 may shed light on the fate of missing Estonia survivors. It was recently reported in the Swedish media that a private Gulfstream 5 executive jet, registered in the United States, played a role in the "extraordinary rendition" of two Egyptian "terror suspects" from Sweden in 2001.
According to Swedish journalist Sven Anér, enforced disappearances from Sweden are nothing new. There is a body of evidence that similar abductions occurred in Sweden in the days following the Estonia ferry disaster. Shortly after Estonia sank, a dozen Estonian crewmembers, all evidently survivors of the catastrophe - disappeared without a trace.
Documents indicate that U.S. registered private jets were used in both the 1994 and 2001 disappearance cases. Anér has documents from Sweden's civil aviation administration concerning two specific aircraft suspected of being involved in the abduction of the missing Estonians. Enforced disappearance, according to the Rome Statute of 1998, "means the arrest, detention or abduction of persons by, or with the authorization, support or acquiescence of, a State or a political organization, followed by a refusal to acknowledge that deprivation of freedom or to give information on the fate or whereabouts of those persons, with the intention of removing them from the protection of the law for a prolonged period of time." Enforced disappearance, a form of kidnapping, is considered a "crime against humanity," according to the Rome Statute, which Sweden ratified in June 2001.
As many as 12 Estonian crew members, which official survivor lists show having survived the sinking, disappeared in what appears to be a government-organized abduction and enforced disappearance. While the original survivor lists contain the names of 146 individuals, the names of a dozen crew members who had been listed as survivors, were deleted without explanation from the lists maintained by the Swedish and Finnish authorities in the days following the disaster. Anér has found 15 different original lists of survivors, all of which include the names of 11 Estonian crew members whose names were later deleted. In order for a name to appear on the list, a survivor was required to give his name, date of birth, status and nationality.
There is evidence that some surviving crewmembers were abducted and taken to Stockholm's Arlanda airport whence they were flown out of Sweden on two private aircraft. The abductions removed key witnesses who would have been able to testify about the condition of the ship, the cargo, and the cause of the sinking. Chief among them were one of the ship's captains, Avo Piht, who was on board but not on duty that night, and Chief Engineer Lembit Leiger. It is thought that the others were crewmembers who had shared the same life raft or been rescued with Piht and Leiger in the same helicopter: Y-64.